Hi, everyone! So, I'm back from the dead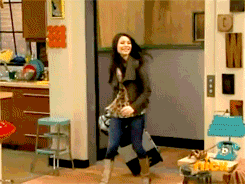 -I haven't really been reading that much. (even though my TBR has been growing immensely) BUT, I have been motivated to read more recently by the cosy-ness of winter! So, here's my December TBR!
P.S. these aren't in any specific order.
---
1. What If It's Us – Becky Albertalli & Adam Silvera
"Arthur is only in New York for the summer, but if Broadway has taught him anything, it's that the universe can deliver a showstopping romance when you least expect it.

Ben thinks the universe needs to mind its business. If the universe had his back, he wouldn't be on his way to the post office carrying a box of his ex-boyfriend's things.

But when Arthur and Ben meet-cute at the post office, what exactly does the universe have in store for them?

Maybe nothing. After all, they get separated.

Maybe everything. After all, they get reunited.

But what if they can't quite nail a first date . . . or a second first date . . . or a third?

What if Arthur tries too hard to make it work . . . and Ben doesn't try hard enough?

What if life really isn't like a Broadway play?

But what if it is?"
AMAZING, RIGHT? This is one of my most highly anticipated reads on my TBR. Written by two of my favourite authors!
I had the opportunity to meet them a few months ago. THEY'RE BOTH SO SO NICE IRL! I was gushing so much when I met them. Anywho, I'm really excited to read this book as it's, 1. In the diverse universe of YA books. Which is always a win. 2. A fluffy and yet super heavy love story (I don't know how they've done that but they did) which I'm 100% here for! At the signing, Adam Silvera said he wrote the very last chapter so, that's going to absolutely break me. but, I'm totally fine with that. and 3. It's based in New York City! Which Is just so great. I haven't read many books based IN New York. So, yeah, I'm really excited!
---
2. Spare and Found Parts – Sarah Maria Griffin
"Nell Crane has always been an outsider. In a city devastated by an epidemic, where survivors are all missing parts—an arm, a leg, an eye—her father is the famed scientist who created the biomechanical limbs everyone now uses. But Nell is the only one whose mechanical piece is on the inside: her heart. Since the childhood operation, she has ticked. Like a clock, like a bomb. As her community rebuilds, everyone is expected to contribute to the society's good . . . but how can Nell live up to her father's revolutionary idea when she has none of her own?

Then she finds a mannequin hand while salvaging on the beach—the first boy's hand she's ever held—and inspiration strikes. Can Nell build her own companion in a world that fears advanced technology? The deeper she sinks into this plan, the more she learns about her city—and her father, who is hiding secret experiments of his own."
Howgreat does that sound? I know, absolutely fantastic! I love the mysteriousness of the whole plot. There's an episode of Black Mirror that goes along vaguely similar lines that were really interesting and kind of sad but I really enjoyed it. But, this sounds better as she builds her own beau. Also, really makes me think of Florence + the Machine for some reason? Well, whatever reason it is, I love it and the cover is gorgeous and great- AH I JUST CAN'T WAIT TO READ IT.
---
3. Aristotle and Dante Discover the Secrets of the Universe – Benjamin Alire Sáenz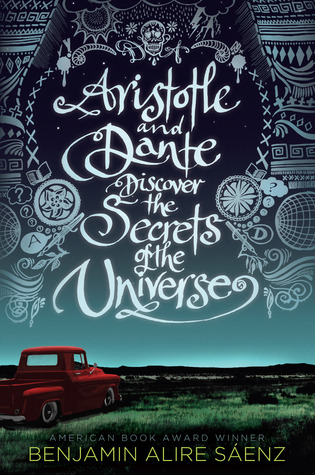 "Aristotle is an angry teen with a brother in prison. Dante is a know-it-all who has an unusual way of looking at the world. When the two meet at the swimming pool, they seem to have nothing in common. But as the loners start spending time together, they discover that they share a special friendship—the kind that changes lives and lasts a lifetime. And it is through this friendship that Ari and Dante will learn the most important truths about themselves and the kind of people they want to be."
So, my friends have been telling me I NEED to read this book because it's "SO good." I really hope I enjoy it as much as they have. It looks really good and I'm ready for some teen angst since I'm probably the least rebellious person on planet earth. I can't wait to ball my eyes out because I can tell by the cover I'm going to be an emotional wreck… so, that's fun!
---
4. For a Muse of Fire – Heidi Heilig
"A young woman with a dangerous power she barely understands. A smuggler with secrets of his own. A country torn between a merciless colonial army, a terrifying tyrant, and a feared rebel leader. The first book in a new trilogy from Heidi Heilig."

"Jetta's family is famed as the most talented troupe of shadow players in the land. With Jetta behind the scrim, their puppets seem to move without string or stick—a trade secret, they say. In truth, Jetta can see the souls of the recently departed and bind them to the puppets with her blood. But the old ways are forbidden ever since the colonial army conquered their country, so Jetta must never show, never tell. Her skill and fame are her family's way to earn a spot aboard the royal ship to Aquitan, where shadow plays are the latest rage, and where rumor has it the Mad King has a spring that cures his ills. Because seeing spirits is not the only thing that plagues Jetta. But as rebellion seethes and as Jetta meets a young smuggler, she will face truths and decisions that she never imagined—and safety will never seem so far away.

Heidi Heilig creates a world inspired by Asian cultures and French colonialism."
First thing I have to say is, THIS COVER IS SO BEAUTIFUL I THINK I DIED FROM IT'S BEAUTY. I got a Physical ARC of this at Bookcon this year and I've been meaning to read it since. I think I'm going to really enjoy it!
---
5. A Conjuring of Light – V.E. Schwab
"Witness the fate of beloved heroes – and enemies.

THE BALANCE OF POWER HAS FINALLY TIPPED…
The precarious equilibrium among four Londons has reached its breaking point. Once brimming with the red vivacity of magic, darkness casts a shadow over the Maresh Empire, leaving a space for another London to rise.

WHO WILL CRUMBLE?
Kell – once assumed to be the last surviving Antari – begins to waver under the pressure of competing loyalties. And in the wake of tragedy, can Arnes survive?

WHO WILL RISE?
Lila Bard, once a commonplace – but never common – thief, has survived and flourished through a series of magical trials. But now she must learn to control the magic, before it bleeds her dry. Meanwhile, the disgraced Captain Alucard Emery of the Night Spire collects his crew, attempting a race against time to acquire the impossible.

WHO WILL TAKE CONTROL?
And an ancient enemy returns to claim a crown while a fallen hero tries to save a world in decay."
WHo GaVe ViCToRiA sChwAb PeRmIsSiOn To BrEaK mY sOuL iNtO pIeCes???? like, seriously. WHO? I'm currently 200 pages in- AND IT's hurtING. I'M IN ACTUAL PAIN, PEOPLE. V. E. Schwab's writing is so gorgeous and amazing that I wish I could read faster because I need all in my brain at once. IT'S JUST THAT GOOD. I can't wait to finish it, but, at the same time I really, really don't wan't to. I'm going to be in a major book coma after this. ugh, I love it.
---
Thank you so much for reading! Have any of you read these books? if so, what did you think of them? No spoilers, please!
❤ Stella